Yamim Nora'im and Sukkot 5782
A Transformative Journey
I suspect that most of us would place Yom Kippur before Rosh HaShanah, as it seems natural to make resolutions for the future before celebrating the new year. Maybe we would even schedule Sukkot, which connects us with mankind, nature and the divine, before the introspection of Yom Kippur. That would give us Sukkot, followed by Yom Kippur, and only then Rosh HaShanah.
It seems that the purpose of Yom Kippur can only be achieved once Rosh HaShanah has passed. Rosh HaShanah enables us to reconnect with God, celebrate His mastery of our world and remind ourselves of our mission as Jews. Once this has been accomplished and we have a renewed sense of our purpose in life, we are able to grapple honestly with our failures and commit to real change. Yet the euphoria and sense of completeness with which we finish Yom Kippur can easily dissipate, so just a few days later we enter the Sukkah to consolidate our relationship with God and our commitment to change. Looking forward to this year's transformative journey.
Wishing you Shanah Tovah U'Metukah and looking forward to welcoming you in Shul over the Yom Tov season.
RABBI DR HARVEY BELOVSKI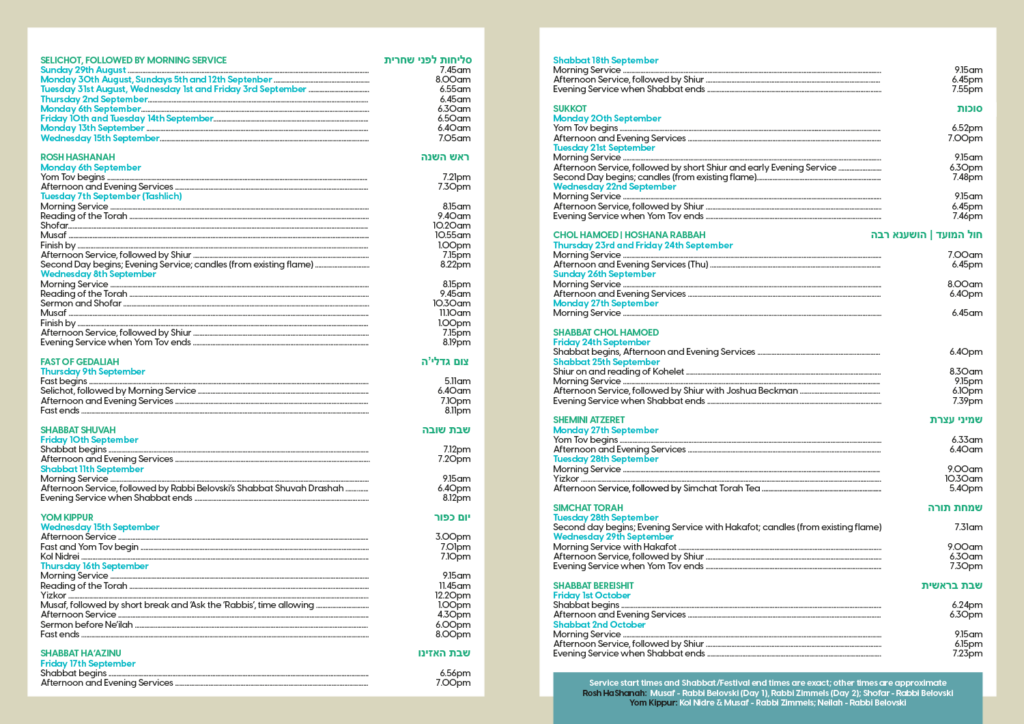 Please click here to download a copy of the Yamim Nora'im and Sukkot service times