GG News
Purim 2022
We were so pleased to welcome back the community in person for Purim celebrations this year!
Events took place for the whole community, the fun started with a Children's Purim Party, organised by the young families committee.  The children enjoyed lots of fun activities including an entertainer, face painting and pizza.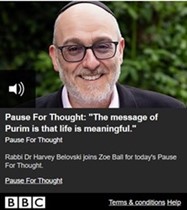 Rabbi Belovski appeared on Radio 2 with Zoe Ball for the Pause For Thought: "The message of Purim is that life is meaningful."  Click here to listen
Volunteers gave up their time to pack and deliver Mishloach Manot to the community, which was especially welcomed for the those members of the community who couldn't be there in person, on Purim.
On the evening of Purim the whole community joined together in shul,  after a long time, to partake in the festivities with a Shawarma & Cocktail Evening following the Megillah reading.  The Youth also enjoyed a fun Quiz and Supper.
On Purim day, a communal breakfast was held followed by the Women's Megillah reading for Women.  In the afternoon there was a drop in Open House @ the Fromsons, for a Purim Seudah.  So lots of food, fun and activities including a bouncy castle.
Photos to follow shortly!!